This coming Monday 9th March, I will be exhibiting a panel of photographs at my Camera Club's annual exhibition, Photo 2009, to be held at the Fairfield Hall in Croydon.
In total there will be more than 150 mounted prints, plus over a hundred slides and digital projected images. These latter two will be displayed when the Exhibition is officially opened by Damian Demolder (Editor of Amateur Photographer), at 20:00 on Monday the 9th.
The prints will be available to look at all week long, at any time that Fairfield Hall is open - starting on the morning of Monday 9th and running until the evening of Saturday 14th.
The exhibition and opening event are both free to attend, and with Croydon Camera Club regarded as one of the best clubs in the region, there are sure to be some excellent pictures on display.
Anyone remotely interested is strongly encouraged to visit.
Below are two out of the fifteen images which I entered.
This image is from my four-image Digital panel "Stormy Weather", and is simply named "Clouds". It was taken early September at Camber, near Rye, East Sussex, on a very windy day: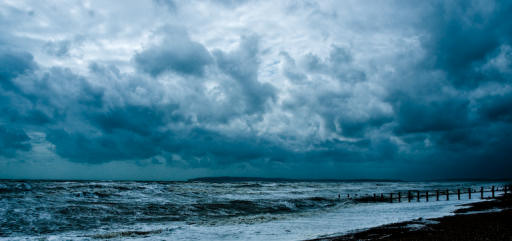 This image is part of my main nine-image Print panel entitled "Elemental Views", and is about 400mm wide (~A3). It was taken in November 2007, when I visited Yorkshire:

Update: For the full panels see my post Elemental Views & Stormy Weather.