Spirits in the Woods is a panel of manipulated photos I originally put together eight years ago, when I entered my first annual exhibition organised by Croydon Camera Club.
Not having entered the exhibition for several years, due to various reasons, but with this year being the 125th anniversary of the club, I made the effort to enter the Photo 2015 exhibition with a re-imagining of that panel.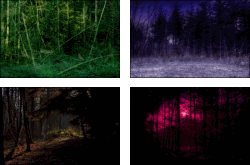 View the Panel It's the same theme and ideas, reworked into four images, and created from photos I specifically went out and took for the panel. This was a first for me - generally I'll go to take photos of whatever I might find, occasionally with vague notions, but without a clear intent/goal. My previous panels were all put together independent of the shooting stage.
Having set myself the aim of re-creating the panel, I made notes on what that meant; what I wanted in it. I then decided on a location I hoped would provide the necessary scenes, waited for appropriate weather, then went out solely to get the shots for the panel.
Note: This write-up was made over six months ago - the exhibition ended on 28th March - but circumstances have prevented the article from being finalised and put online before now.
Exhibition aside, it was a good experience and I'm glad I did it. If you're interested in details you can continue on to the full article for a write-up.